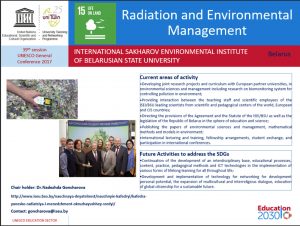 The UNESCO Chair of Environmental Sciences and Management was opened on June 1, 1994 (Order No. 1, September 6, 1994) by the order of Lyutsko A.M., the Rector of the International College of Radioecology according to the UNESCO contract No. 105.350, December 31, 1993. (order)
In March 2016, a new agreement was signed with UNESCO on the UNESCO Chair in connection with joining to BSU (letter from Mr. Wells Chief, Section of Higher Education UNESCO 7, Place de Fontenoy 75352 Paris 07 France)
en.unesco.org/sites/default/files/list-unesco-chairs.pdf
The main activity of the UNESCO Chair is participation in the implementation of the international program UNITWUIN/UNESCO Chairs ("Related universities"):
assistance in organizing internships abroad;

organization of cooperation between professors, scientists and administrations of higher education institutions in various regions of the world including through the use of remote education networks;

improvement of the educational process based on attracting and using the experience of foreign countries that have developed traditions of specialist training in environmental protection;

improving the level of research work including the active participation of teachers and students in international research projects;

invitation of foreign teachers and scientists to participate in the educational process and scientific work of ISEI BSU;

preparation and publication of scientific papers including jointly with foreign partners;

organization and participation in international congresses, conferences, symposia, and colloquiums.
Main areas of activity
Educational projects:
Baltic University Program
TEMPUS CD_JEP-27177-2006 (BY) "Environmental Training Course for Belarusian Universities" (2006-2009);

TEMPUS 2/13/000660 "Human safety (environment, food quality, health and society) in areas contaminated with radionuclides" (2013-2016);
Cooperation in the field of science
🔗International Conference of UNESCO Chairs "Mobilizing UNESCO Chairs in Natural Sciences for Action on the 2030 Agenda"
🔗App
Organization of scholarships and grants for students ' participation in international research projects within the framework of agreements on scientific and creative cooperation:
Students used the skills and results obtained during the internship to complete and write coursework, theses, master's theses, and PhD theses.
UNESCO projects
"Ecological ethics in the system of bioethical education of the Republic of Belarus" 2008-2009

UNESCO Education without Borders Krakow (Poland) 2011

"Global bioethics in the context of youth education: conducting a training seminar and conference" in the framework of the Participation Program for 2014-2015.

National School-Laboratory of Bioethics for schoolchildren – a tool for implementing the 2030 Agenda in the Republic of Belarus 2019
Every four years, the UNESCO Chair submits a report on its activities to the National Commission for UNESCO in the Republic of Belarus and the UNESCO Secretariat in Paris.
Publications
Goncharova N.V. UNESCO project in the Republic of Belarus "National Bioethics Laboratory for Schoolchildren-a tool for implementing the 2030 Agenda".Collection of scientific papers of the XX International Scientific and Practical Conference "Actual Problems of Ecology and Nature management", Moscow, April 25-27, 2019, Moscow, 2019, vol. 2., p. 166.
Tremble L., Goncharova N. V.Mobilizing UNESCO Departments of Natural Sciences for action on the 2030 Agenda.Tremble., N. V. Goncharova, / / Ekologicheskiy vestnik -2018. – No. 1 p. 4-9

Goncharova N. Green Energy as a component of sustainable development/II International Forum «Trade Union and «Green» Jobs» 19-20 April 2018, Minsk, Republic of Belarus, p.67-71

Goncharova N. V.Environmental education through the UNITWIN program/UNESCO Chairs. Congress "Globalistics-2017", Section "Global ecology" Moscow "Lomonosov-2017" e-resource.
Goncharova N.V The role of the UNESCO Chair in Environmental Education through the program "Baltic University (BUP) The collection of materials of the Belarusian-Baltic Forum" Co-catalyst innovative growth "on October 22-23, 2015, Minsk, str.29-31
Goncharova N.V. ENVIRONMENTAL MONITORING AND MANAGEMENT OF CONTAMINATED TERRITORIES FOR CLEAN PRODUCT PRODUCTION, Proceedings of the VII International scientific-practical conference "Science in the modern information society» 9-10 November 2015 g.North Charleston, USA, V 2, p. 119 -122
Goncharova N. V. The role of the UNESCO Chair in Environmental education through the Baltic University (BUP) program/ N. V. Goncharova/ / Belarusian-Baltic Forum "Cooperation as a catalyst for innovative growth" Belarus, 2015 pp. 29-31
Goncharova N. V. Sakharov Readings 2014: ecological Problems of the XXI Century: materials of the 14th International Scientific Conference (Minsk, May 29-30, 2014) / ISEI; ed. by V. I. Dunaya, S. S. Poznyak, N. A. Lysukho. Minsk, 2014, p. 41.
Goncharova N. V. Ideas of Environmental education for Sustainable Development through the UNITWIN program / UNESCO Chairs at the ISEI /N. V. Goncharova//European Conference on Sustainable Development. Belarus, Minsk, May 15-18, 2013 / Minsk, LLC "Eurasian Center of Intellectual Resources", 2013 p. 193-196
Goncharova N., Main principles, means and mechanisms of establishing sustainable development strategies in Belarus. UNESCO Interregional Engineering Conference in Technology and Education – Global Benchmarking and Monitoring. 8-10 December 2011, Krakow, Poland, UCTE 2011 Proceedings, Session: S2a-04
Goncharova N., BELARUS – country and potential. UNESCO Interregional Engineering Conference in Technology and Education – Global Benchmarking and Monitoring. 8-10 December 2011, Krakow,Poland, UCTE 2011 Proceedings, Session: S1a-08

Implementation of UNESCO strategies for the second half of the decade of Education for Sustainable Development at the ISEI //Education, society, technologies, economics, ecology abstracts of the European Seminar Belarus, Minsk, March 16-19, 2011 / Minsk State University Institute of Physics and Technology, 2011. pp. 178-181
Books:
Ecotoxicology, Ecological Risk Assessment and Multiple Stressors




Series: NATO Security through Science Series Subseries: NATO Security through Science Series C: Environmental Security, Vol. 6


Arapis, Gerassimos; Goncharova, Nadezhda; Baveye, Philippe (Eds.)


2006 Springer, XVI, 382 p., Hardcover ISBN: 1-4020-4474-7

Phytoremediation of Metal-Contaminated Soils




Series: Nato Science Series: IV: Earth and Environmental Sciences, Vol. 68


Morel, Jean-Louis; Echevarria, Guillaume; Goncharova, Nadezhda (Eds.)


2006 Springer, X, 360 p., Softcover ISBN: 1-4020-4687-1

Strategies to Enhance Environmental Security in Transition Series: NATO Science for Peace and Security Series Hull, Ruth N.; Barbu, Constantin-Horia; Goncharova, Nadezhda (Eds.)
2007 Springer, X, 444 p., Hardcover ISBN: 978-1-4020-5994-0