History of the chair
General and Medical Physics Chair was established in 1994 and called "Department of Environmental Physics".
Currently, the chair has 13 lecturers including 2 Doctors and 9 PhDs. The chair consists of 6 training laboratories:
mechanics;

thermodynamics and molecular physics;

electricity and magnetism;

opticians;

quantum physics;

atomic and nuclear physics.
In 2011, a student research laboratory was organized. In September 2017, the Chair of Physics and Higher Mathematics was renamed the Chair of General and Medical Physics.
Tasks and main areas of work
Disciplines
Master's course disciplines
Research
Laboratories
Branches
Materials of the department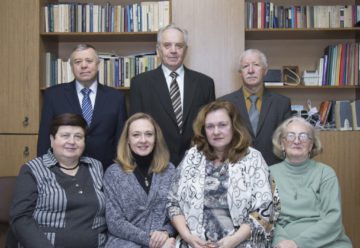 Academic staff
Full name

Disciplines taught

Malishevsky Viktor Felixovich,


Associate Professor, PhD in Physics and Mathematics

Physical methods in biology and medicine




Electricity and magnetism




Physics




Physics. Electricity and magnetism

Boyarkin Oleg Mikhailovich,


Doctor in Physics and Mathematics

Quantum mechanics




Physics. Quantum physics. Electrodynamics

Lutsevich Alexander Alexandrovich,


Associate Professor, PhD in Pedagogy

Mechanics




Physics. Mechanics




Physics. Electricity and magnetism




Physics. Atomic and nuclear physics

Pushkarev Nikolay Vasilievich,


Associate Professor, Candidate of Physical and Mathematical Sciences

Physics. Optics.




Physics. Optics and fundamentals of atomic physics.




Optics.

Savastenko Natalya Aleksandrovna,


Head of the Department, Associate Professor

Higher mathematics. Probability theory and mathematical statistics.




Mathematics. Mathematical analysis.




Mathematics. Probability theory and mathematical statistics.




Higher mathematics. Differential equations.




Mathematics. Differential equations.




Mathematics. Probability theory and mathematical statistics.




Probability theory and mathematical statistics.

Fedorenchik Elena Viktorovna,


Senior Lecturer

Mechanics.




Physics (optional discipline).Physics. Mechanics.




Molecular physics.




Thermodynamics.




Physics. Molecular physics.

Borbotko Elena Petrovna,


Senior Lecturer

Analytical geometry and higher algebra.




Higher mathematics. Analytical geometry and linear algebra.




Mathematics. Analytical geometry and linear algebra.




Physics. Molecular physics.

Zorin Vladimir Petrovich,


Associate Professor, Candidate of Biological Sciences

Radiation metrology / Biophysics of non-ionizing radiation.




Physics.




Laser impact on biological tissues / Physical methods of diagnostics and therapy in oncology.




Fundamentals of modern biological and medical physics.

Radyuk Darya Ivanovna,


Senior lecturer

Higher mathematics.




Mathematics (optional subject).Mathematics. Analytical geometry and linear algebra.




Mathematics. Mathematical analysis.




Mathematical analysis.

Chikova Tamara Semenovna,


Professor, Doctor of Physical and Mathematical Sciences, Associate Professor

Thermodynamics.




Physics. Mechanics.




Molecular physics.




Physics. Physics. Thermodynamics and molecular physics.

Katkovskaya Irina Nikolaevna,


PhD, Associate Professor

Mathematical analysis

Scherbovich Anastasiya Alekseevna,


trainee teacher

Mechanics. Thermodynamics. Thermodynamics and molecular physics. Electricity and magnetism. (laboratory work)
Training and support staff